Our Vision to Parents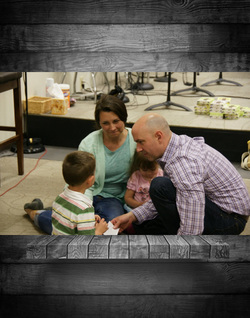 Satan understands the powerful gift and weapon we cradle in our hands called our children, and He is battling for their souls, and the destruction of our family inheritance. As parents, entrusted with God's children, we can't afford to busy ourselves doing "good" things and not "God" things. God's heart for families always was to create a perpetual generation of family worshipers that would daily abide in His presence. However, today, more often than not, our children go one way at church and we go the other. The same thing is daily occurring in our homes. God's ancient vision of a family altar, that inhabits the presence of Jesus, is almost non-existent. Satan has used busyness, cultural ideologies, and every distraction at his disposal to keep our families from making Jesus the center of our homes. He has robbed us of presence-filled family worship. The altar of our home, where God's vision for our families is to be cultivated and manifested, has been stripped away and replaced with business, rebellion, compromise, distractions, and selfish lusts of the flesh. Families are on the front lines of the spiritual battle between the kingdom of darkness and kingdom of light. Many are exhausted and weary of the battle. The answer for our families does not lie within self-help books and counseling. Although these things are good, it is only through the power and presence of God found at the family altar we can ever find victory, unity, healing, and purpose. It is time to take the vision back and lay hold of the compass that points us to the family altar once again. Our heart at Chosen Stones Ministries is all about a call back to the ancient ways; the ancient vision that God established for families.
I have found over the many years of ministering to families that most parents desire to disciple their children in spiritual things and desire family times of worship, but do not have a blueprint on how to get it done. It is like seeing an old friend and saying let's get together, but without a plan, a calendar event, it just doesn't ever happen.
Malachi says in 4:5-6, "Behold, I will send you Elijah the prophet before the coming of the great and dreadful day of the LORD. And he will turn the hearts of the fathers to the children, and the hearts of the children to their fathers, lest I come and strike the earth with a curse." I believe we are right smack in the middle of this Malachi prophecy on God's time line. Chosen Stones Ministries has a mandate from God to arise in the Spirit of Elijah and turn the hearts of family back to each other and to God once again. We want to help lift your arms and give you tools to ensure God's inheritance is passed down from one generation to another in your family.
I want to encourage you to purchase our book Presence-Driven Family Worship for the Home (Hyperlink). It is the purpose of this book to cultivate a generation of families who will bring the altar and vision of God back once again in their homes, and create an atmosphere for the habituation of the presence of God. This book will take you from the bigger picture of God's generational vision for families, to His calling in us as parents, to a Biblical blueprint for family worship and ministry, and finally a step by step instruction manual found in God's word for presence-driven family worship called the tabernacle of Moses. But this isn't just another book with good information. I also provide you with very practical, creative, and spirit-filled ways that you can begin and continue in the vision and calling of the family altar through what I call "jumping off" ideas. This is where you will begin to get creative ideas on how to go from vision to reality. Will you accept the call to presence-driven family worship?
We also have many other resources for families as well at our
Resource Page for Parents
.
Please sign-up for our ministry email to get information on family events you can attend and to receive words of encouragement through prophetic teaching. Sign-up here (Hyperlink)
---