Alicia White, Founder and Director
​
Alicia White has been serving kids and families for over 12 years. She began as a children's minister of a local church plant, and slowly began to shift in her ministry focus to family. Chosen Stones Ministries was birth in 2008 with a vision to see Malachi 4:5-6 come to pass. Alicia, in the spirit of Elijah, has a passion to see the hearts of family members return back to each other and to God. She is making a clarion call back to the ancient ways, the good path that God established for families through the 1 Peter 2:5 Priesthood. Her approach is to reestablish the family altar, through a New Testament perspective, built upon the foundation of the infilling and power of the Holy Spirit, and the truth and work of the Cross. She currently is fulfilling her ministry mandate by holding training conferences for parents and church leaders, hosting family revival services, and has been a workshop leader at conferences such as FOCUS (Church of God children ministry conference), church of God General Assembly, and Kids in Ministry international. She has written many resources for both the church and parents including children and family curriculum, devotionals, and her recent release of two books, Presence-Driven Family Ministry for Your Church and Presence-Driven Family Worship for Your Home. In early 2018 she is set to release a spiritual parenting curriculum that will include 8 workshops for the church and the home. In addition to her family ministry, she is also serves as the Ohio director for Kids in Ministry international www.kimiohio.org
​​
How We Serve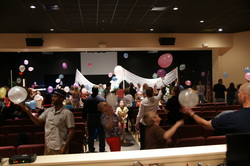 For the last seven years we have been hosting family gatherings and revival services along with church leadership and parent training conferences. I also continue to write many resources for the church and parents. However, in 2016 I heard a strong mandate from God to take the pattern of Presence-Driven Family Ministry He has given us, to the church in a greater measure.
If you are interested in finding out details on these events or would like to invite us in please contact us at
info@chosenstones.org
Kick Start Family Weekends
: This is a super charged weekend to help begin and establish presence-driven family ministry in your church. The weekend layout, days, and times, vary depending on your church needs, but will consist of teaching workshop(s) for your parents and leaders along with family service(s) that will initiate family ministry at your church.
Parents and Leadership Training Workshops
: This would consist of at least one full day of training workshops for you parents and leaders concerning the young generation and our role to raise them up to be spirit filled active members of the body of Christ right at the age they are now. I always like to conclude this event by having a impartation time and intercession for the youth of this generation.

Spiritual Parenting Training Workshop:
I am currently in the process of writing a curriculum for parents that will train and impart to them how to spiritually train their kids in the things of the spirit.This will be out by Spring of 2018. This weekend event would be an opportunity for your church parents to set in on live sessions of this curriculum with Q & A offered.
Family Revival Conference
: This would be a blast of spirit lead and empowered services for the whole family to engage in together. Each service follows our pattern of ministry for family gatherings. Days and times would vary depending on your church needs.
I am also the Ohio Director for Kids in Ministry international. Under this minister I host many conferences and events. Please see my website for this ministry for more information:
www.kimiohio.org
---