Presence-Driven Family Ministry Gatherings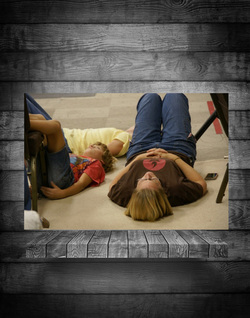 Presence-driven family Gatherings is a spirit lead and driven intentional pursuit of God's glory, truth, and presence by both the kids and parents together. It is neither a kid's service nor an adult service where kids set in. It is a worship experience where the meat of God's word is being taught and received by both parents and kids, where the gifts of the spirit are being activated in all ages, and the presence of God is being encountered by young and old alike.
Why Presence -Driven? Jesus sent His presence to earth by the Holy Spirit to be in and with us as believers. This was incredibly important for Jesus to do, because without His presence, the Holy Spirit, living in and with us, Jesus would become distant, un-relational, and merely a person of history that you and I never got to encounter or experience. God knew that we needed a now God, a present Jesus, and an eternal being who would cause the words and works of the Kingdom of Heaven to come alive in us today. The presence of Jesus, Holy Spirit, has many roles in us. He is our comforter, our helper, our teacher, the agent of our healing and deliverance, the voice of God, our power, and our gift giver and our character builder. He is all of Jesus on earth. It is important that as we disciple and lead families, we are simply drawing them into the presence of God, allowing the Holy Spirit to do what He alone can do. If we do anything less I am determined it will be in vein and only produce powerless and fruitless religion. The more presence, the more Jesus; we are after relationship not religion. Presence-driven family gatherings pursue the presence of God in order for Him to have His way in the families of God. A lifetime of Christian or pastoral counseling cannot do what the Holy Spirit can do in one moment.
Our unique pattern of ministry offers parents a way of worshiping and seeking God together that goes from the church to the living room. Our gatherings are broken up into three sections, or mini-devotionals if you will, that include the teaching of God's word, with an activation of family worship that draws the word into the spirit at the family altar. Our family gatherings teach, train, and model before parents how to take back the reigns of spiritual training of their children and offers a place of true spiritual family ministry within the house of God.
There are many benefits, or fruit if you will, to facilitating and hosting these family gatherings in your church; it brings unity and healings within the families of your church, cultivates a lifestyle of worship, passes the baton of Spiritual leadership back to parents, souls are won through a paradigm of family, and you will see an increase in spiritual maturity in the kids and parents of your congregation.
We recommend that you host these gatherings at your church once a month, separated from the traditional kids and adult services. If you would like to know more about this pattern of ministry please purchase our book called
Presence-Driven Family Ministry for the Church
. We also offer Kick Start weekends to model our pattern of ministry in your church congregation
Kick-Start Family Weekends
To find out all the ways we can serve you please go to How We Serve
---