Jason and Alicia White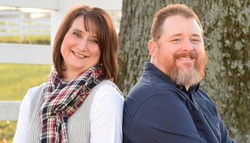 Jason and Alicia have walked with the Lord through long trials and blessings. Jason, not being raised in a godly home, had very little knowledge and awareness of the Lord during his growing up years. Alicia, on the other hand, was born and raised in church, but during the early years of her adult life she walked away, becoming a part of George Barna's statistics. However, Alicia did return to the church, but not without tragedy greatly influencing her decision.
Jason and Alicia were high school sweethearts and began their married life with much anticipation, but not with much thought of God's purpose for them. About two years into their marriage they had their first child, a son. He is a miracle child which they almost lost at birth due to complications. In trying to have a second child, they experienced two miscarriages, and on the eve of the doctors declared that a third miscarriage was about to take place, they surrendered to the Lord. Jason, as stated above, did not know the Lord in his youth, but soon found his faith as he sought God's mercy to save their fourth child, a beautiful daughter.
Again, another pregnancy, after many frightening runs to the hospital, Jason and Alicia faced a third miscarriage, leaving their third child, without her twin. Through the loss of three children and the birth of three they gained respect and a fear of God, along with a faith that is irrevocable. God, even then, was preparing their hearts for the burden He would soon place upon them for this young generation and the families of God.
The Lord soon propelled them into a walk of obedience, faith, and sacrifice. Still unaware of their true calling and the road ahead of them, they helped plant a church in West Chester, OH with friends and Pastor Randy and Kim Rice. Alicia agreed to be the Children's Pastor out of a desire to do anything that was necessary to help the church…the need was a children's leader. God didn't inform them of big plans or an incredible "call" He had for them, He simply tested their ability to walk in obedience and serve with humble hearts. Until God directed otherwise, Jason took on the role of assisting Alicia. Jason and Alicia had no prior ministry training, neither did they have any preconceived mindsets or ideas on how or what to teach children. The Holy Spirit had a clean slate to work upon and was able to mold Jason and Alicia into the clay He desired to teach His little ones.
God began revealing His desire to be with His children intimately, and His longing for them to experience the working of His Spirit that had been denied them for so long. Jason and Alicia did not use books or a published curriculum. They relied completely upon the Holy Spirit each week to reveal a fresh word to bring to the children. Quickly, many children began receiving the baptism of the Holy Spirit, experiencing dreams and visions, and received revelation concerning the deeper things of God.
Jason soon felt God calling Him to work with the youth of the church and began to focus more of his ministry time to that age. He, too, began to see a generation of youth hungry for more of God. A hunger that extended beyond words written on paper… they longed for the tangible manifestation of His presence. Jason, during this same time period, co-founded the Greater Cincinnati Healing Rooms with Anna Dance at the church in West Chester. The Lord used him to impart and minister healing to the youth. God propelled Jason and Alicia to serve passionately in ministry.
God brought them through the fire of three tragic miscarriages, and blessed them with three miracle children. After these trials and blessings, they were better able to understand the magnitude of the gift of children being the very seed of God. And through their pain and joy, they were able to intimately embrace the purposes of God for this generation that will not only know about Him, but will KNOW Him passionately and intimately.
After three years of assisting with the planting of the church in West Chester, and after being used to impart the vision of God into the children and youth that God had given them there, Jason and Alicia felt the Lord's leading to prepare for their next commissioning.
Jason and Alicia's heart turned toward the family. This is where Chosen Stones was birthed. As parents begin to come approach them and ask how they can help their kids pursue the same ministry they were receiving at church, Alicia realized that God was beckoning her to disciple His families; to mentor, train, and model before families how to make worship a lifestyle not just a place they go. She desired to see the families of God step into the divine purposes that God ordained for His children since the beginning of time, to have an intimate relationship with their Father, make Jesus the center of everything they do, and to be empowered to serve in the army of God. After seven years of leading families in presence-driven family gatherings a pattern of God for family ministry was birthed.
In the summer of 2016 Alicia heard the voice of God speak t her, "I have perfected a pattern of family ministry through you for the last seven years, now I want you to take it to my church." These is what they are pursing and driving towards though parents and leaders training conferences, kick-start weekends for establishing presence-driven family ministry in churches, family revival services, and many resources geared towards helping the family.
Alicia also established a relationship with Becky Fischer of Kids in Ministry intentional. She graduated from the School of Supernatural Children's Ministry. In 2011 Alicia was ordained under her ministry and asks to share the vision of family ministry as the Ohio Director for Kids in Ministry int.
www.kimiohio.org
Currently Jason and Alicia and their four children reside in West Chester, OH. They are pursuing the work of the Lord in helping churches in Cincinnati, the nation, and abroad through their ministries Chosen Stones and KIMI Ohio.
---